EPS' ultra-high pressure waterblasting systems run at pressures between 10,000 psi and 40,000 psi. For airport taxiways, runways, water tanks (steel and concrete), roads and bridges they provide an economical way to remove rubber build-up, paint markings, curing compounds and coatings
We developed a water recycling system that allows us to reuse recovered water and use less water on projects. This process is a dust-free solution to surface preparation when used with simultaneous vacuum recovery of all removed water and material. We also provide low-pressure washing services to clean concrete and steel surfaces.
We have removed rubber from almost every airport runway in California over the past decade. Our ultra-high waterblasting rigs quickly and effectively removes rubber from airport runways. We utilize simultaneous vacuum recovery of all removed materials and water. Whether it's a one-time or recurring need we can assist you keep your friction within parameters.
---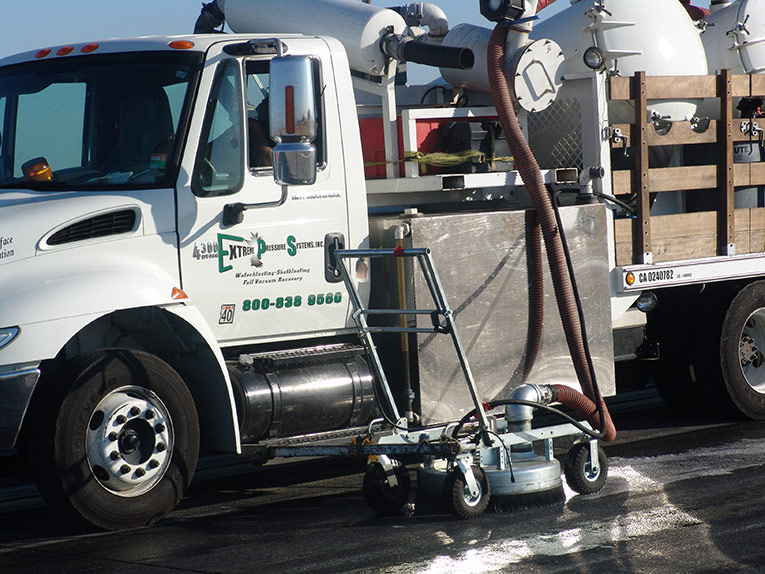 Surface Preparation, Curing Compound Removal and Painted Marking Prep
Airport pavement is subject to harsh conditions that include oil and grease, fuels, jet-blast reside, curing compounds and failing thermoplastic and painted markings. Coupled with these items are laitance that occurs over time as concrete ages. The application of new markings, coatings and sealers will not bond properly if the surface is not property prepared. Our goal is to select the correct piece of equipment from our fleet of ultra-high waterblasters, shotblasters, scarifiers and grinders to make sure we tackle your project in the most efficient manner. This is especially useful for FAA Compliance Corrections
---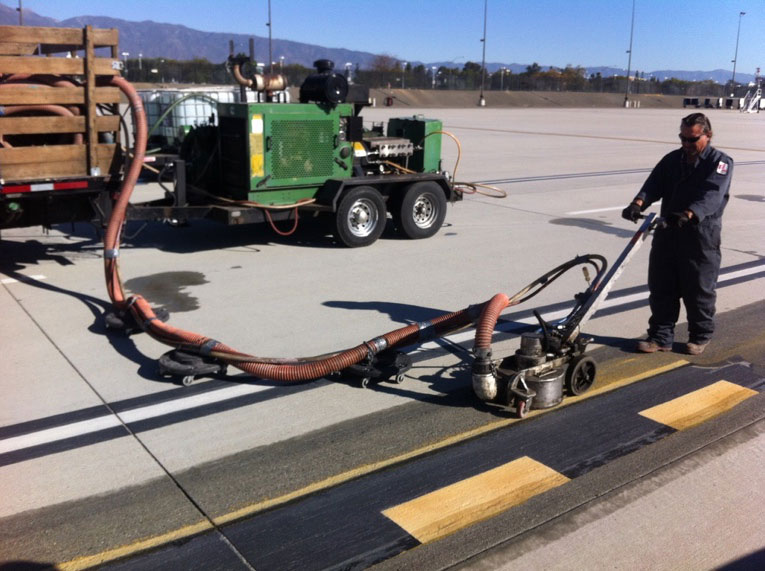 Our pavement marking removal utilizes ultra-high pressure (UHP) waterblasting services. UHP waterblasting is both effective and efficient, as this surface cleaning method does not release any airborne contaminants. After the area has been water-blasted, you are left with a clean surface and minimal damage to underlying substrates. This approach can be utilized to remove everything from rubber off of runways and paint lines off of roads.  Our pavement marking removal methods and machines are efficient and environmentally-friendly, making them ideal for the removal of markings and rubber.
---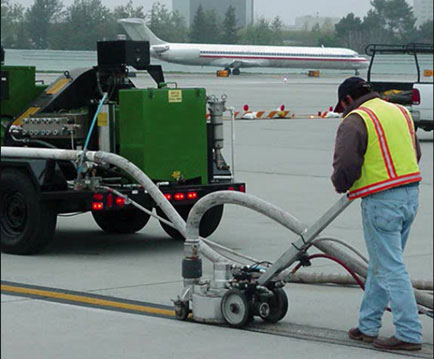 Hyrdroblasting is an effective method to remove concrete in situations where mechanical equipment is not feasible or there are structures (such as rebar cages) underneath that can not be damaged by mechanical removal.  The tooling used allows us to control the flow and quantity of water to cleanly remove concrete.
---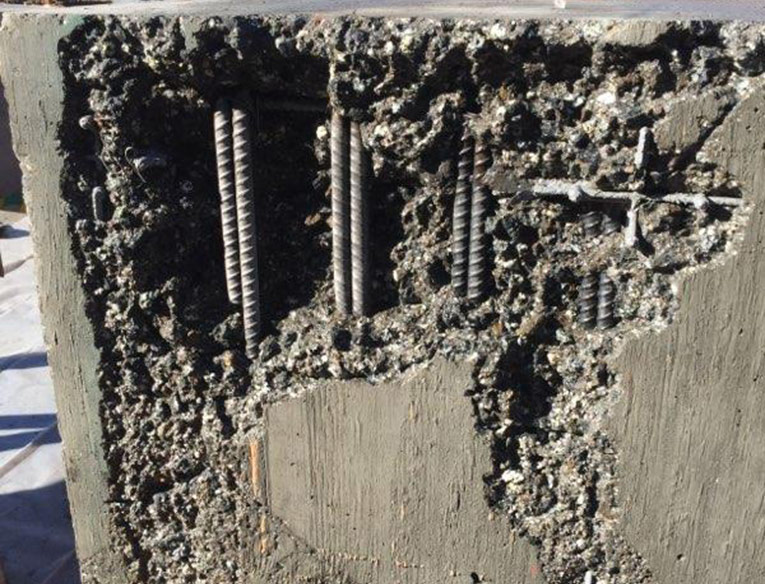 Our fleet is filled multiple sizes and quantities of shotblasters, floor scrapers, grinders, waterblasters and scarifiers.